Creative Kitchen Backsplash Ideas – Not a fan of white subway tile? Don't fret. Look to custom and DIY options for creative backsplashes that are only limited by your imagination and budget. Of course, you'll want to take into consideration your cooking habits, too. Those who fancy themselves amateur chefs and tend to have multiple splattering pans going at once might not be keen on a custom photography backsplash. But for the pop-it-in-the-microwave types, the more decorative options might make sense.
Here are 10 adventurous options that you — or your designer — may want to consider for your next kitchen backsplash.  Creative kitchen backsplash ideas
1. Photography. An original photograph or print backsplash can fit with any style — and what a statement it makes. Consider using a family vacation photo or a blown-up detail of a single flower.  Creative kitchen backsplash ideas
2. Salvaged boards. This is usually an easy material to source, and works great for those looking to add farmhouse style. Add a muted, soft color to the boards with a diluted paint, as shown here, or go bold with a few coats of fresh, bright paint.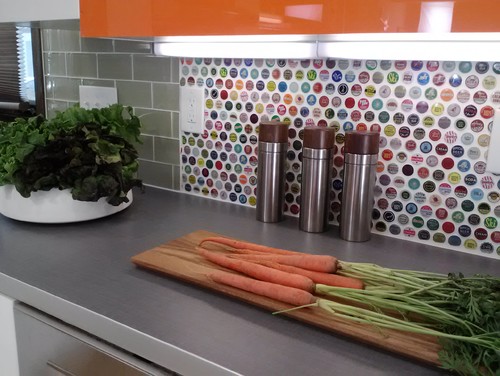 3. Vintage bottle caps. Bottle caps create an interesting look suitable for a kitchen with vintage flair. Plus, they come in many colors, so you can customize the caps to fit with the rest of your kitchen color scheme.  Creative kitchen backsplash ideas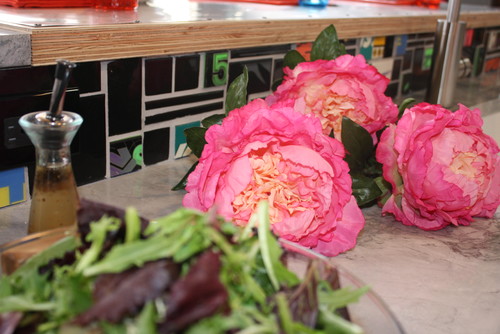 4. Snow skis. Like the really unexpected? Salvaged downhill skis are a fun choice for a modern and funky or lodge-style kitchen.
Skis can be found at secondhand stores, garage sales and online. Coordinate the colors with your home or mix it up and add spice and a variety of colors with different skis. Fill in with tile pieces to make your skis go the distance.  Creative kitchen backsplash ideas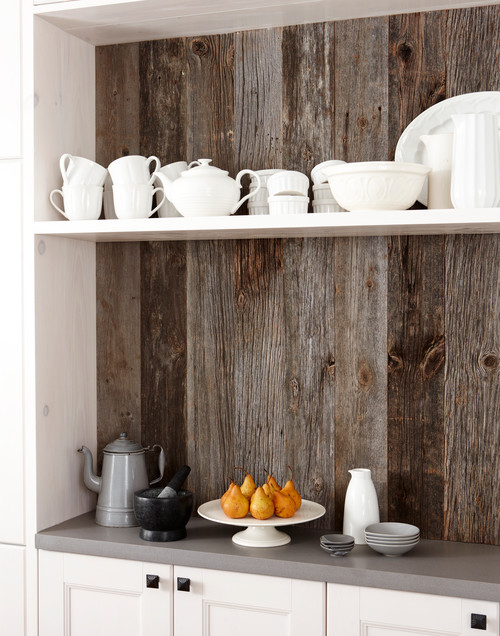 5. Reclaimed barn wood. Though this material might not be best for the space right behind your range, it works great for other areas, such as a coffee station.  Creative kitchen backsplash ideas
6. Magnetic chalkboard paint. There's so much versatility with this option. If you don't like the standard classroom look, you can customize your paint color and still get the benefits of having a magnetic chalkboard.  Creative kitchen backsplash ideas
Plus, it's easily applied. A foam roller and tape are practically all you need.
7. Pennies. While the backsplash shown here is made of ceramic tile sheets covered in copper, there's no reason you can't use real pennies to make your own similar version.  Creative kitchen backsplash ideas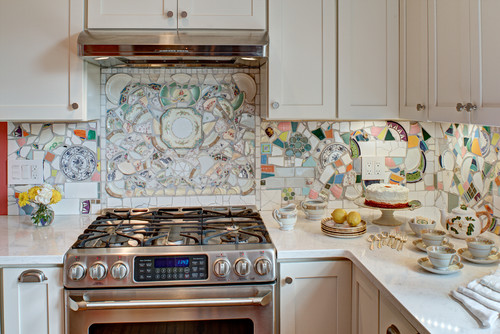 8. Mosaic pieces from broken china. Pieces of china and tile set the tone for this cottage-style kitchen. China can be found at secondhand stores, estate sales and garage sales. To save money, look for chipped or otherwise slightly damaged pieces that are marked down, which are perfect for this project.  Creative kitchen backsplash ideas
9. Sliced corks. Many of us have a drawer or container full of wine corks just waiting for a good use. As a backsplash, they add warmth and texture. They're great for a bar area in the kitchen.  Creative kitchen backsplash ideas
10. Tin tiles. A tin backsplash has a classic, timeless look but adds just enough shine for a modern feel. Tin tiles comes in different finishes, too, so if you really want to go modern with this material, try molded plastic panels, which allow you to paint the surface any color